National Award chestnut flour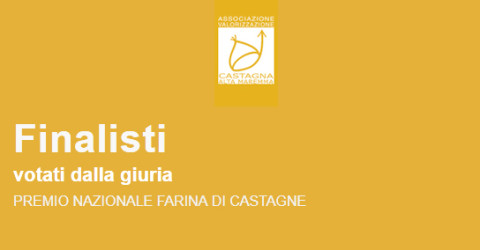 The farm Martinelli Laura has participated with the flour of own production to the national award chestnut flour organized by Castagna Alta Maremma and the Municipality of Montieri hosting the prize and with the technical collaboration of Slow Food Monteregio.
Our product has been selected to enter the finals along with five other competitors.
Here are

those who contest

the final

Prize
Az Agr. SILVIA BONFIGLIO – Liguria Carro SP
Az. Agr. CASTELLINA Emanuele Piani – Toscana San Godenzio FI

Az. Agr. MARTINELLI LAURA – Toscana Villa Collemandina LU

Az. Agr. IL PANIERINO – Toscana Roccastrada (Sassofortino) GR
DANIELE COLLACCHIONI – Toscana San Godenzio FI
Soc. Agr. BACCANELLA Federico Franchi – Toscana Caprese Michelangelo FI
Program

Award

chestnut flour

National Award
Chestnuts
Boccheggiano

-

Theatre

-

January 24, 2016
11:00 am Meeting of the Committee for the final ranking of flour 13.00 Break tastings of chestnuts and chestnut flour at local restaurants
15.00 Technical meeting: "enhancement of chestnut Alta Maremma. The point of the research already carried out with an eye toward the future "Speakers: - Dr. Claudio Cantini CNR IVALSA-Institute for the exploitation of wood and tree species S. Pauline Follonica - Patrizia Salusti University of Siena - Department of Life Sciences. Introduction by Mario Cancelli, president of Valorisation Castagna Alta Maremma.
16.00 Award ceremony: publication of the list and award the best chestnut flour by the Mayor of the City of Montieri, Nicola Veruzzi.